THE STATE OF ERGONOMICS
"We have always done it that way." One of the most common answers when it comes to initiating change. After extensive research, we have decided to make this easier for you.
In our day-to-day work, we repeatedly find that the subject of ergonomics is not emphasized enough. We want to create more awareness of this and therefore we have been looking into typical behaviors when it comes to lifting, carrying and transporting loads.
Sitting at a desk for long periods of time, carrying heavy objects or bending down all the time - this and much more can cause back problems. Back pain due to incorrect physical stress, both in private and in the professional environment, has long been a number one disease. Especially when lifting and carrying heavy loads are typical occupational activities, it often leads to musculoskeletal disorders. Heavy lifting operations without suitable aids can even lead to acute physical overload, such as a herniated disc, and thus to immediate loss of work.
It is always important to assess the overall situation. Because when it comes to stress of the musculoskeletal system, duration, frequency, posture, execution conditions and load weight are also decisive.
Our ergonomics check should help you determine where there is an increased risk in your company.
THE ERGONOMICS CHECK.
After a few minutes and only nine questions, our test makes it clear whether and to what extent there is a need for action in terms of ergonomics in the workplace and whether lifting and carrying should be done differently in your everyday work.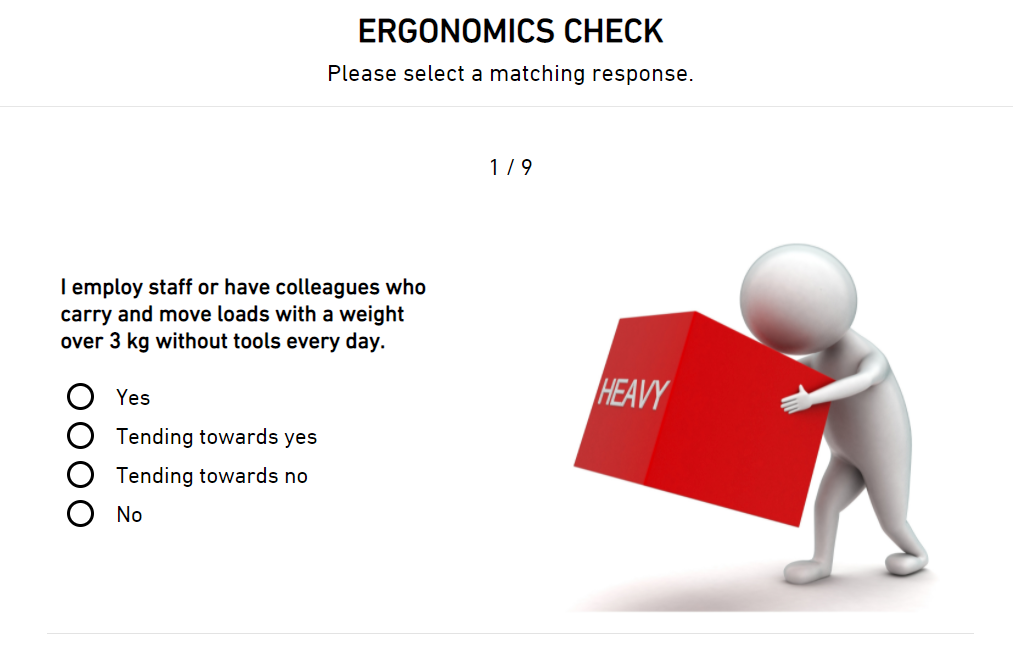 For a precise analysis of the ergonomic situation at your workplaces, you should always consult a specialist in occupational safety or a doctor to be absolutely sure. We have made an initial help with tips and information in our whitepaper, which you will receive after completing the test.
We are pleased that you want to do something for the health of employees and colleagues.