Handle heavy reels with electric reel manipulator
Lifting bowls in a healthy way with mobile lifters for kitchens
Grip, lift and tilt heavy reels and drums
Enhanced Safety and Hygiene in the Production Process
When manufacturing food and beverages, manual operations, such as heavy lifting and transporting of unwieldy objects, often pose a fundamental risk to safety, efficiency and sanitation. An issue that cannot be overlooked, as product quality relies highly on sound production processes that comply with the industry's demanding hygiene requirements.
With a Hovmand lifting solution, the problem is removed, and you can easily optimise an entire process chain. Our battery-powered lifters are manufactured according to GMP standards and offered in stainless steel with a waterproof design, fit for easy cleaning. Whether you need to transport and combine raw materials and ingredients, pack finished products or prepare them for shipping – our lifters function as your perfect aid.
Below you can read more about some of the typical challenges that companies face in the food and beverage industry. Perhaps you are facing the same challenge? We are ready to help.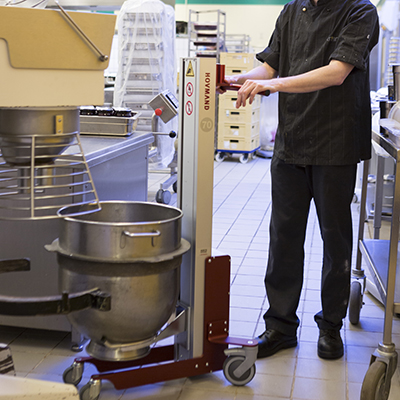 Heavy Lifting in Kitchens and Bakeries
Professional kitchens and bakeries use large instruments and quantities of ingredients that foster material handling. In particular, the transport and manoeuvring of mixer bowls often presents as a complicated task. This is because mixer bowls need to be lifted, shifted, tipped and emptied several times every day. More so, mixer bowls come in many sizes and weight classes, making the lifting of these instruments a health hazard or even impossible.
At Hovmand, we have developed a number of lifters fit for the challenge and with assured ergonomic gains to be experienced. Maybe, you are looking for a simple solution to ease lifting between workstations, bring items to the table edge and place bowls right on the tabletop.
Or perhaps, you are looking for a seamless way to get a hold of a mixer bowl, lift it, shift it around, position it at a suitable height, rotate the bowl and pour the contents into a pan or the dough onto the table. Our lifters are fit for these very purposes, bowls (between 30 and 200 litres) easily 'snap lock' to the lifting arms and are held securely in place during moving.
Once the work is done, you can take the bowl directly to the sink where you can wash it or place it in the dishwasher. For selected lifters, we also offer a platform attachment that allows you to lift and carry cardboard and plastic boxes, pans, sacks, bowls and roasting dishes. In other words, we ensure you gain a suitable lifting aid that meets your needs and brings your material handling to the next level.
Moving Buckets and Reels in Dairy Production
Within dairy production, multiple processes necessitate lifting and moving of objects and materials. For example, jerrycans and buckets must be transported throughout warehouses and storage areas. Also, the many fragile or liquid substances, handled in dairy plants, require packaging and wrapping with stretch film.
This promotes a substantial amount of reel handling. Reels often pose as heavy and unwieldly, making their moving, lifting and placement onto packaging machines a problematic activity, taking a high toll on employees' backs and ultimately leading to low efficiency.
Do you recognise these challenges? And are you looking to optimise workflows, while also securing the health of employees? Then look no further. We supply lifters for multiple applications within dairy production. In storage areas, one of our smaller lifters (Impact 70 or Impox 70) with an attached platform, is an ideal solution, suitable for moving objects such as buckets.
We also have experience in designing and supplying custom-made solutions for unique dairy containers and offer lifters with squeeze, turn and rotating functions for easy emptying of jerrycans. The latter activity often takes place within the actual production, why lifters are made of 100% electropolished stainless steel. Last but not least, we have multiple solutions and tools that transform handling of reels from a complex to an effortless task.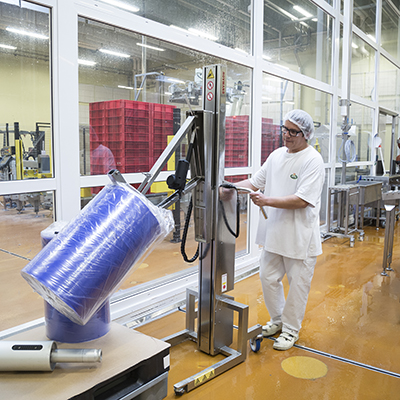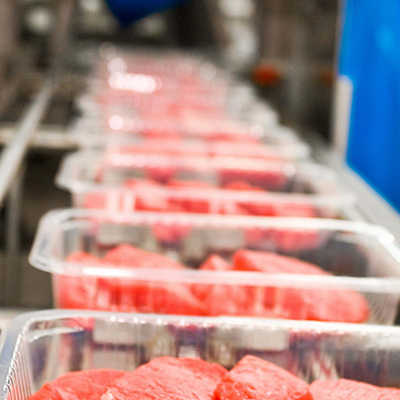 Material Handling in Meat Production
Production of meat is a craftsmanship, perfected throughout numerous centuries. Therefore, modern trade has become a demanding task that requires a number of activities, among others, revolving around material handling. On a daily basis, heavy boxes containing processed or raw meat need to be lifted and moved between workstations and onto pallets or shelving racks.
Likewise, sacks containing up to 50 litres (of e.g., salt) must be transported and unloaded. And if the meat plant also takes on the packaging, then heavy plastic reels must be placed onto the packaging machine. All activities that put strain on the individual worker and eventually slow down the speed of production. In realisation of this challenge, an increased focus on occupational health and safety has characterised the meat business in recent years. Maybe your company is next?
We offer lifting solutions to mitigate the risks associated with manual handling of cardboard and other odd size boxes as well as sacks. Our lifters and attached platform or fork tools, make moving and manoeuvring of meat and other raw materials an ergonomically safe activity.
For packing, we offer solutions with multiple tool types to ensure reels weighing up to 200 kg (~441 lb.) are properly lifted and can be shifted onto the relevant packaging machine. If any of the lifting activities take place in cleanrooms, our solutions are also provided in a stainless steel and hygienic design, ensuring protection from germ or dust adhesion as well as resistance to water and aggressive cleaning agents
Handling Reels and Sacks in Breweries
Recent years' rising demand for craft beer and other beverage products has created a surge in the number of breweries and microbreweries found on a global scale. A positive indication for the segment's profitability. But with rising demand also comes new requirements for productivity and efficiency that simultaneously must comply with the wellbeing of workers.
In large breweries, this can be a difficult balance and task, when multiple reels of wrapping-film and labels need to be moved throughout production and onto machines many times each day. Similarly, microbreweries often face repetitive lifting of sacks containing raw materials such as malt, sugar and flavouring agents. At Hovmand, we aim to remove these lifting challenges for good.
Our lifters always ensure ergonomic material handling and with a broad array of tools and applications, no problem is too difficult. To ease the moving and manipulation of reels, we offer multiple powerful lifters, capable of handling up to 200 kg (~441 lb.) and with attachments that facilitate capture, shifting, turning and horizontal tipping.
Our modular design guarantees that each solution is tailored to your individual workflow and can be supplied in stainless steel, based on wants or requirements. This also applies to our smaller lifters. So, if you are looking to move raw materials, without putting strain on employees then do not hesitate to contact us.