Pick reels from the pallet with a manual reel manipulator
How to lift and transport reels safely
How to get a grip on your reel handling with reel lifters
Lifting Reels Made Easy
Today, many types of materials are supplied as reels. Something that fosters numerous reel sorts, including foil for wrapping and material for packaging foods, paper manuals, print and more. Moreover, reels can be both short and long, have small or large diameters and vary extensively in weight. And finally, the reel material can have different thicknesses, price classes and degrees of vulnerability.
The countless combination options make handling reels a complicated task that requires various types of equipment, when lifting, moving and tilting takes place. To overcome the hurdle and ensure that employees are kept safe from physical strain, we have created a number of solutions – ranging from simple to large and more automated.
Below you can find examples for inspiration.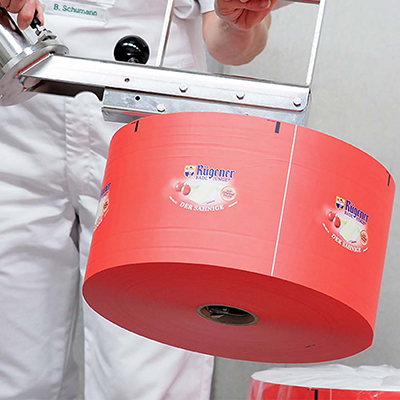 Our Most Popular Solution: The Reel Manipulator
How do you get ahold of reels that are placed very close to a pallet and in several layers? And even if this is managed, how is it then possible to turn the reel from vertical to horizontal to facilitate mounting onto a packaging machine? All without physical strain or damaging the reel? This is one of the most widespread challenges when handling heavy reels.
Fortunately, we have created an innovative lifting device called a 'Real Manipulator'. The tool grips the reel by the core, ensuring it is firmly held and can be moved. Following this, the reel can easily be rotated for correct positioning and attachment onto machines. Most of our reel manipulators can even be swung from side to side, enabling swift lifting from pallets, without having to push the reels around.
We supply our reel manipulators in three different versions – one mechanical and two electrical. The mechanical version is quick and easy to use and can handle reels weighing up to 80 kg (~176 lb.), while the electrical versions are suitable for larger reels, weighing up to 200 kg (~441 lb.).
The Simple and Flexible Solution: Boom and V-Block
In some cases, reels must be mounted above shoulder level, while others have to be mounted below knee height. Similarly, you may work with multiple types of reels. In this case, some reels may need to be attached to a fixed boom (resembling a spear) and others installed by way of a loose boom placed in the core of the reel, and then onto a packaging machine. For this type of task, our "Boom – V-block" is a practical and versatile solution.
For simpler lifting tasks, we can recommend booms and double booms that are available in different sizes and versions. A boom is placed in the core of the reel, which can then be lifted, while a double boom lifts under the reel.
If you need to handle different reels, an adjustable boom is a perfect solution. Here the width between the two booms can be adjusted to suit your various reels.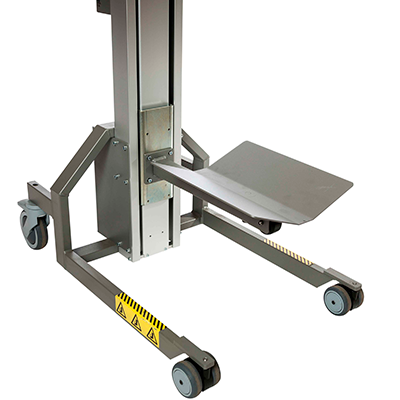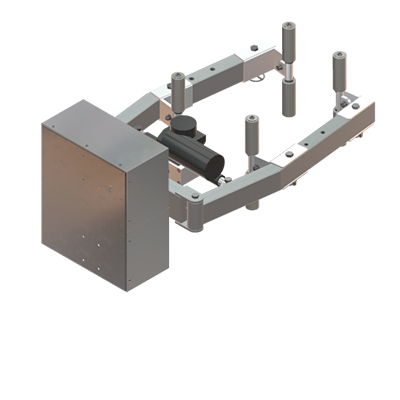 Can You Grab the Outside of a Reel?
What can you do when the reel material is very smooth, or the reel needs to be placed in a complicated position? In short, what if gripping the core of a reel is impossible? Luckily the answer is simple; you can grip the outside of the reel.
Our 'Grip and Turn' tools provide the perfect solution to the task. The handling equipment grips the outside of the reel, holding it in place for easy lifting and subsequent rotation into position. We offer several sizes of Grip and Turn tools, depending on the task, and with a lifting capacity of up to 250 kg (~551 lb.).
Depending on your reel, our tools can even be fitted with different grippers. This allows for a secure grip on the reel and at the same time ensures that the reel is not damaged.