Ergonomic Material Handling
Hovmand is the world-leading manufacturer of mobile, battery-powered lifters. For nearly 50 years, we have been improving efficiency and working conditions in the area of material handling. Our innovative lifting solutions help customers all over the world improve ergonomics and create more productive workflows.
We are driven by a desire to help our customers achieve their goals and develop the most innovative products to ensure that all organisations are equipped with solutions to create a safe and efficient work life. We are firm believers that no person should ever have to experience health problems because of material handling.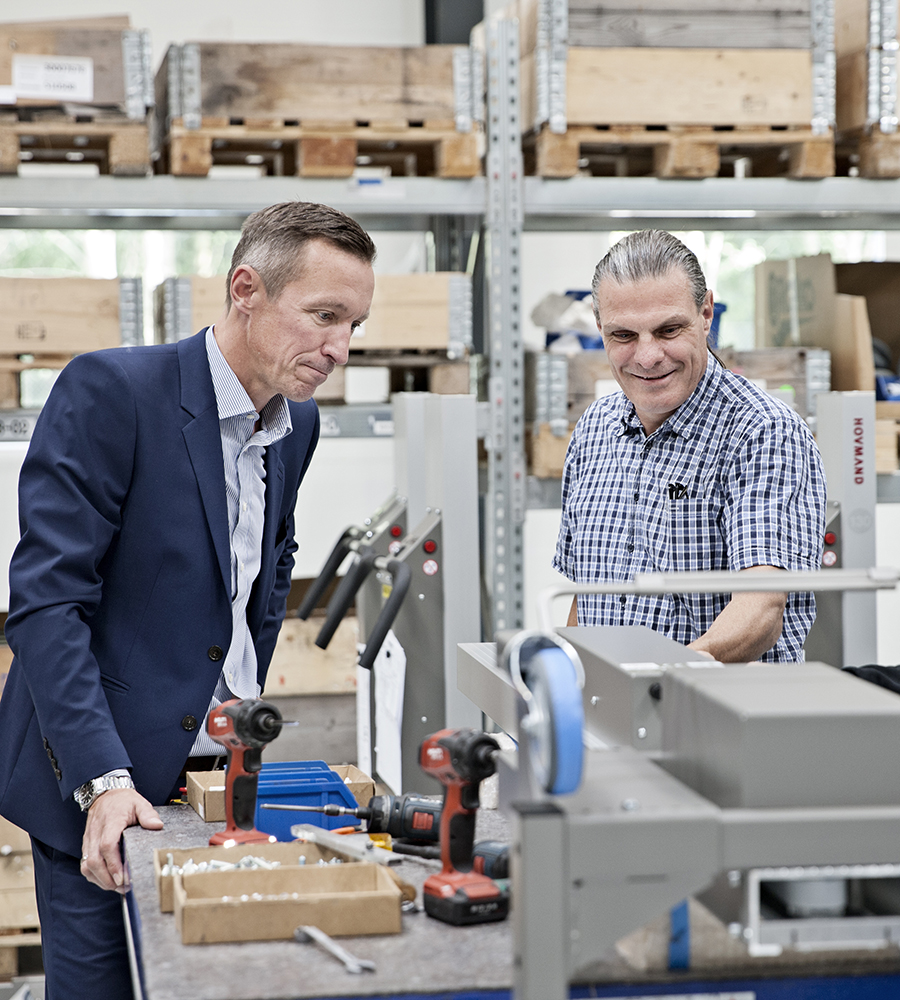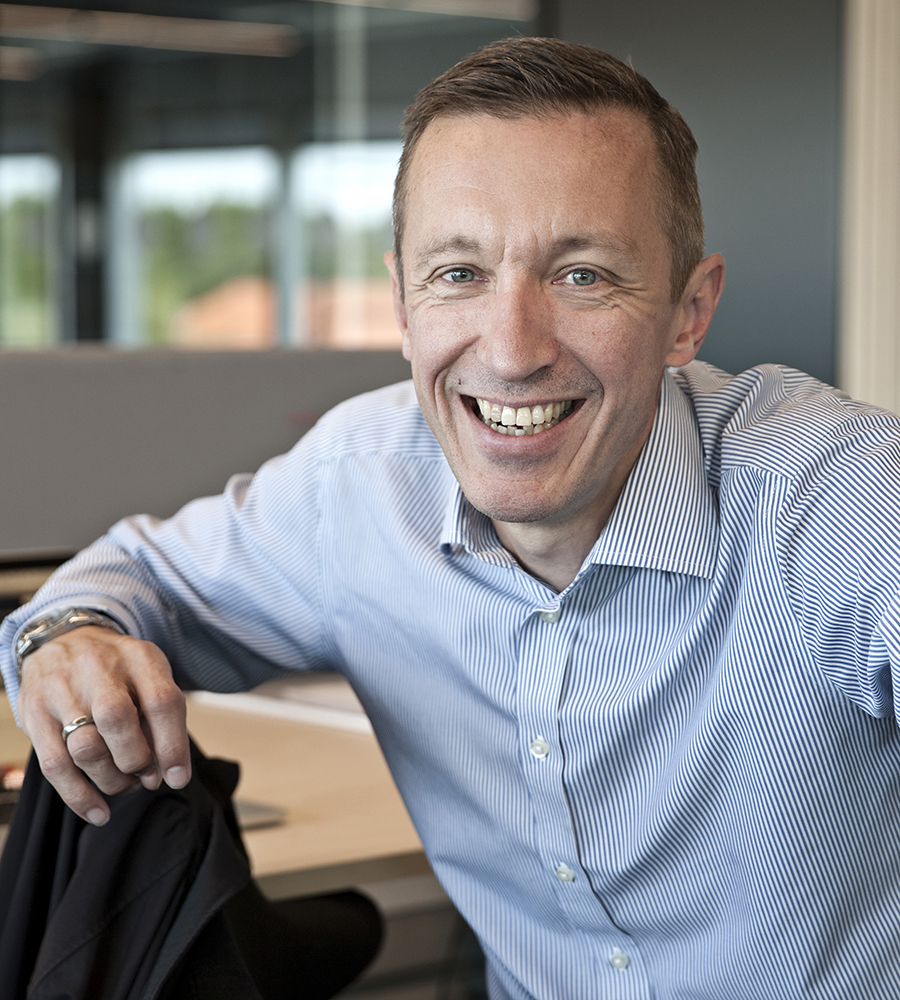 Innovative Danish Solutions
At Hovmand, we take pride in thinking outside the box and fostering creative ideas. Like our founder Hans Christian Hovmand, today's CEO Søren Hovmand is an inventor who continues to seek new solutions and question the status quo. This is why our customers continue to choose us as their preferred partner in solving their challenges and helping them improve their manufacturing processes.
We are headquartered in Køge, Denmark where all our customised lifting solutions are designed and manufactured. Across Denmark and our subsidiary in Germany, we employ more than 55 people who all work hard to ensure that Hovmand produces and markets first-class products of the highest quality.
Winner of the 2019 Digital Award
In recent years, we have undergone a transformative journey to becoming a fully digitalised company. From the start, we have been motivated to find new ways to connect with our customers and cater to their needs, and as part of our digitalisation journey, we have developed the Virtual Engineering App.
The app uses state-of-the-art technology and allows customers to design their lifter based on more than 100,000 configuration options, while augmented reality enables customers to view the lifter in 3D. Based on our ground-breaking digital solution, we are proud recipients of the 2019 Digital Award from the Danish Ministry of Industry, Business and Financial Affairs.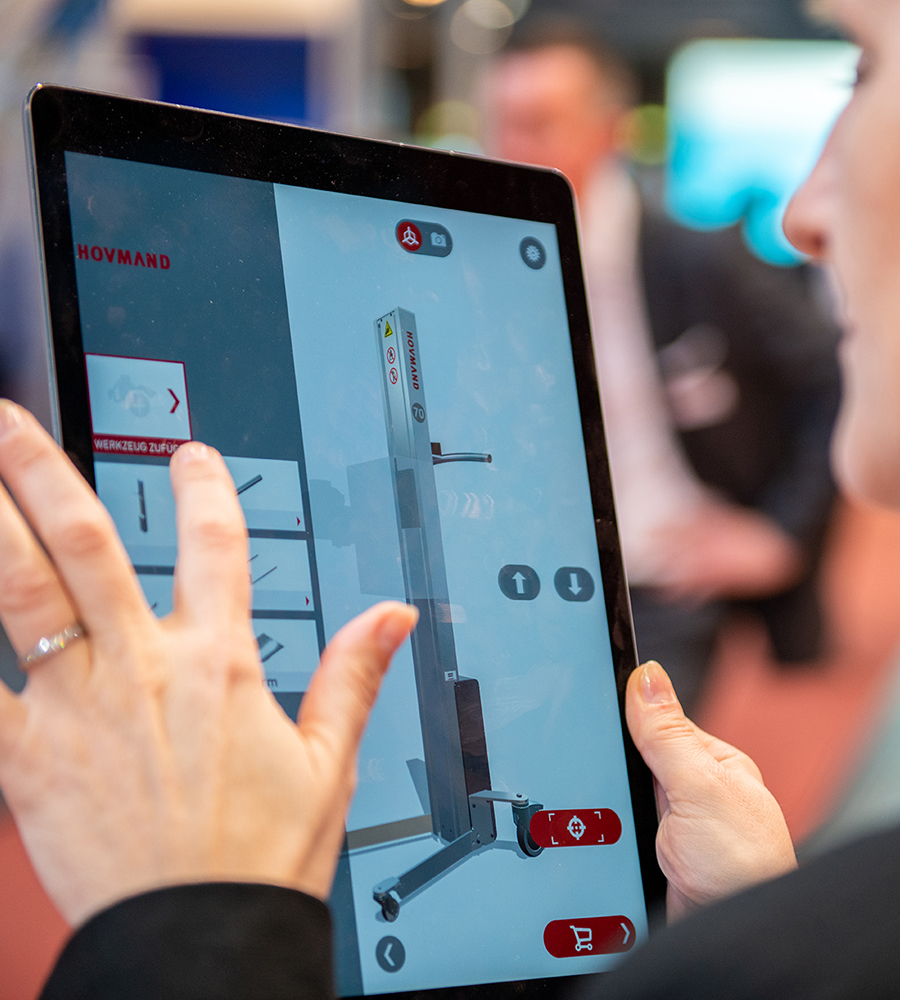 Our History - A Family Run Business
In 1972, in a small village near Sorø in Denmark, Hans Christian and Bibi Hovmand founded H.C. Hovmand ApS Polyurethan to develop tailor-made polyurethane machines. The first constructions were produced in an old chicken coop – first on paper, then built by hand. In the years that followed, Hovmand became the first aluminium sack truck dealer in Denmark and took over sales for German conveyor belts and screening plants. The space in the chicken coop soon became insufficient, but as true problem-solver Hans Christian Hovmand simply purchased a large tent at an auction, put it up on his property and used it as a warehouse.
After steady growth, Hovmand moved into the premises of a former car dealer in Sorø. It was a wonderful location, but Hans Hovmand attached great importance to being close to his customers, so he chose to acquire a shop in the middle of Copenhagen in 1984. Sack trucks, electric stair climbers from Japan and polyurethane machines were displayed in the shop window, which was rather unusual for a downtown store. His son Søren took care of the business together with his sister Suzanne while studying. In 1991, Hovmand moved its headquarters to a new, larger building in Sorø.
Almost 20 years after establishing the company and following many developments and ideas, the first lifter was launched in 1995. Shortly afterwards, Søren Hovmand joined the executive committee and took over management of Hovmand A/S in 1999 – with a completely new focus: he sold the polyurethane machine business and concentrated entirely on mobile lifters. In order to expand further, Hovmand opened a subsidiary in Munich, Germany in 2014. Since the last move in 2019 to the newly built plant in Køge, Denmark, Hovmand now has sufficient space for future developments. And who knows what tomorrow has in store.
Five Decades of Ingenuity