Ergonomic ways to handle and lift crates and boxes
Flex crane arm system used to handle unfavourably shaped items
This is how to lift all kinds of industrial drums in a safe way
Increase Safety and Productivity with the Right Equipment
Wherever there is a production facility, there is also a wide variety of materials that need to be lifted, moved and transported. Boxes, reels, drums and objects of all shapes and sizes can be found in manufacturing processes, and for employees, material handling is often a repetitive task that can pose an everyday safety risk and turn into health problems over time.
To guarantee maximum protection and eliminate long-term physical consequences, Hovmand lifters are the ideal solution for lifting and transporting goods throughout the entire production. With the right industrial lifting solution, you are just one step away from obtaining an optimum work environment with effective and safe material handling.
On this page, you can read more about our solutions for increased efficiency in industrial production.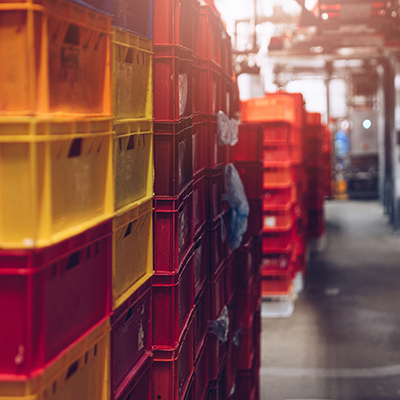 Say Goodbye to Manually Lifting Boxes
A production area without a crate or box is a rare sight. From the materials are received and assembled to the finished products are shipped off, crates and boxes play an important role. Often, boxes are delivered in large numbers on pallets from where they are distributed to different parts of the assembly line.
Crates and boxes are, therefore, a practical solution when it comes to material handling, but they can get very heavy for employees, who typically have to lift them manually. Consequently, the task may lead to decreased productivity.
With a Hovmand lifter, the boxes are effectively transported from storage areas to the working station where they can easily be positioned at an ergonomically correct height. We offer a broad range of fork tools developed to fit the most widely used boxes in industrial production.
In case you need help handling many different types of boxes, we also have more flexible fork tools. By using a Hovmand lifting solution, you get a more efficient production process as a lifter can move several boxes at once. This relieves the employees, who in turn will be less prone to accidents.
Moving Machine Parts and Other Irregularly Shaped Items
Material handling in the manufacturing industry involves much more than crates, boxes, buckets and other common, stackable objects. In fact, many production processes also rely on lifting and moving machine parts such as press moulds, filling pipes and motors – in essence, machine parts that need to be mounted onto a larger machine.
Other irregularly shaped items may also be found in production facilities, including windows, wooden boards or other bulky and heavy objects that are nearly impossible to move and position ergonomically.
The lightweight and easily manoeuvrable Hovmand lifter is an ideal aid when it comes to assembling a variety of parts in an effective manner. Combined with our wide range of customisable tools, we can always find a solution for you regardless of the item you need to lift or move.
Our flexible, configurable tools such as the vacuum pump or crane arm are highly versatile solutions that can help you create better ergonomics and workflows.
Precise and Easy Handling of Drums
Drums are practical and versatile, which may explain why they are so often used in industrial production. The drums are used to store a wide variety of raw materials and ingredients, including oil, chemicals and detergents. Generally speaking, drums are the preferred type of storage application whenever the raw materials are of liquid form. The advantages of drums for material handling are many, but when they have to be moved, rotated and emptied, the task puts stressful pressure on the body.
With a customised Hovmand lifter, you can remove the physical strain on employees, while ensuring safer and more precise handling of drums. Our drum lifter effortlessly grabs onto the drum with its gripping tool, and the lifting and tipping process is easily controlled via a remote control, ensuring safe and effective working conditions. The lifting solution can be used with all types of drums and our modular system can be adapted to any production facility.
For improved handling of drums in the manufacturing industry, we recommend that you look at our Impact series and its compatible tools.