Tyre exchanges in a healthy way
Flex crane arm system used to handle unfavourably shaped items
Inspiration on how to lift and mount wheels
Enhanced productivity with the right equipment
Throughout the automotive supply chain, the lifting of parts is an essential, yet often complicated, task. Hovmand's lifters provide an ideal solution to the challenge. Thus, ensuring maximum safety, flexibility, and efficiency for OEMs, TIER 1, 2 and 3 suppliers - and even in car repair garages.
Hovmand's lifting solutions can handle a wide variety of parts and elements used in modules and systems. Hereby freeing up skilled employees for other tasks and strengthening physical health practices.
On this page, you can read more about our solutions for increased efficiency in the automotive industry.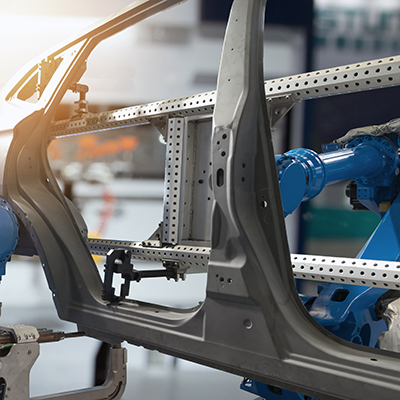 Lifting Machine Parts in All Sizes and Forms
Every day an enormous number of machine parts are handled throughout the production chain of the automotive sector. However, many such parts are too heavy or unwieldly for manual labour, especially in cases where repetitive lifting, turning and transport are present. For this reason, Hovmand has developed a number of versatile lifters that ensure maximum protection and improve output and consistency throughout the entire production.
In accordance with the industry's high need for process differentiation and thanks to our flexible product concept, we can quickly build a lifting solution fit to your individual requirements – without having to turn it into a costly project.
Quick and Safe Tire Changes Without Physical Exertion
In many car repair garages, seasonal tire changes still require enormous physical effort on the part of employees. Tires have to be removed from shelves, transported to the vehicle and fitted, after which sets of interchangeable tires have to be replaced in storage.
We have developed our own product series that is specially adapted to your requirements, making everyday work considerably easier, while also relieving your car mechanics.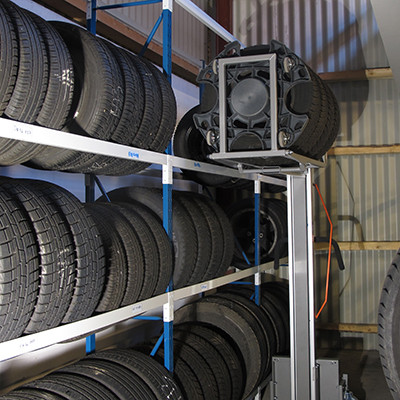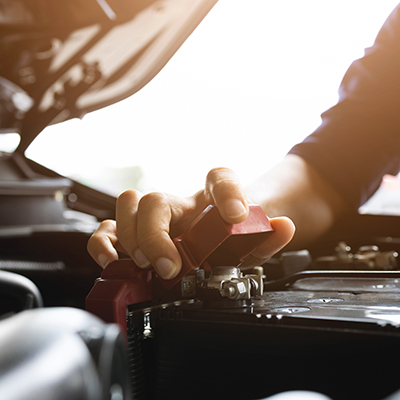 Handling Solutions for Batteries
An essential component in any automotive vehicle is the battery, making it a key focus area for a number of subcontractors. Batteries often need to be moved throughout production or in and out of designated cabinets, putting repetitive strain on workers.
Hovmand's lifters are ESD equipped making them highly compatible with electronic heavy environments. In this way, a Hovmand lifter complies with the strict requirements in the industry and simultaneously ensures efficient and ergonomic workflows.