HANDLING TECHNOLOGY IN THE PHARMACEUTICAL INDUSTRY: HOW IT SUPPORTS HYGIENE AND PRODUCT SAFETY
When it comes to patient safety, the rules for hygiene and precision in production are particularly strict. In the pharmaceutical industry, the GMP regulations for production, packaging and storage apply. In these areas in particular, the physical handling of raw materials, semi-finished products and finished products play an important role every day. Material handling not only makes the work of employees in pharmaceutical production easier, it also helps ensure hygiene and product safety.
STRICT RULES FOR MANUFACTURERS OF PHARMACEUTICAL PRODUCTS
The high hygiene requirements in pharmaceutical production are increasing with the growing focus on patient and product safety. For good reason. The ability for people to receive safe medical treatment in the precise dose and with the right ingredients is an obligation of the modern health system to society. For this reason, the responsible authorities such as the FDA (Food and Drug Association) in the US and EMA (European Medicines Agency) regularly tighten their regulations for the manufacturers of pharmaceutical products. The GMP rules (Good Manufacturing Practice) mainly concern production, filling and packaging. They regulate processes, the use of equipment and hygienic protective equipment, including the mechanical aids that are used in these areas. All production components must meet the respective hygiene and quality regulations.
In addition, in companies that are subject to the GMP regulations, the qualifications of the employees, the quality and control of the processes as well as the corresponding documentation must be flawless. Otherwise, the authorities can prohibit the distribution of the respective pharmaceuticals. That would have far-reaching consequences for the manufacturers and, above all, for the patients, whose well-being depends on the various remedies.
PHYSICAL RELIEF - ALSO UNDER STRICT HYGIENE RULES
In practice, other requirements are added to the strict regulations of the authorities. The main thing is to ensure safe and ergonomic workplaces. As a proven manufacturer of lifting aids, we at Hovmand work every day to improve physical working conditions in companies. In the pharmaceutical industry, too, our lifters have already achieved significant relief for teams and improvements in manual work processes.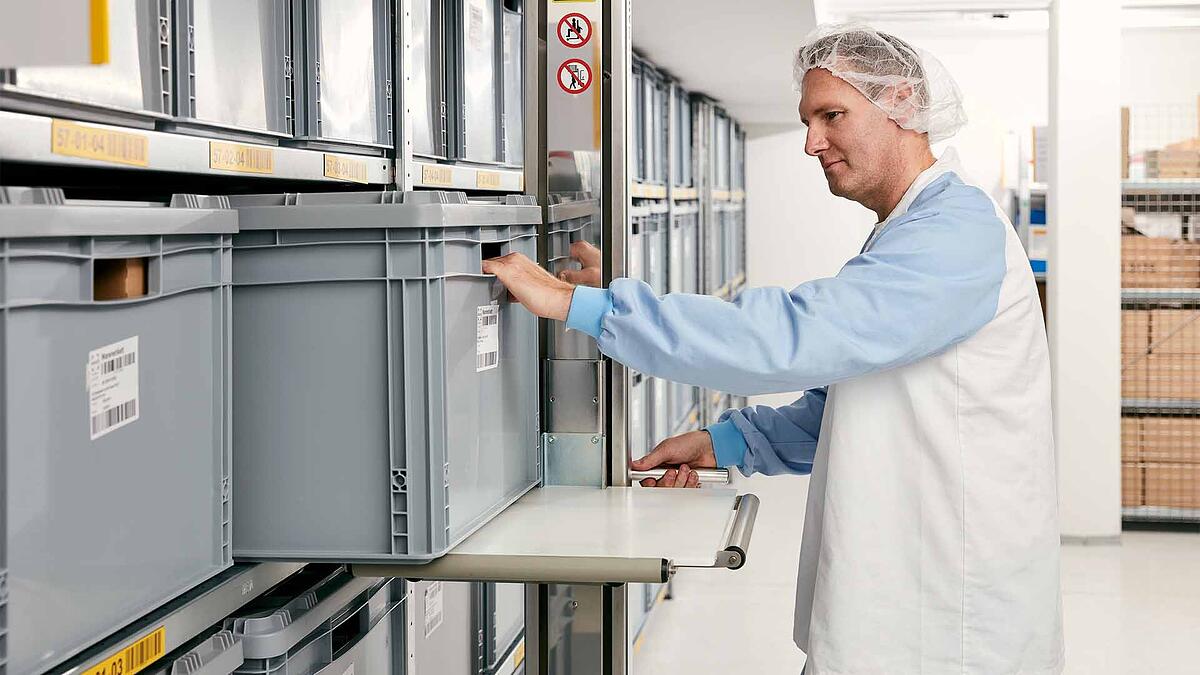 In the clean room, however, even the smallest speck of dust has a huge impact on the smooth production process. That is why your team wears protective clothing. That is why your premises are strictly controlled and why your lifting aids also need hygienic equipment. Hygienic design is the keyword for material handling that should provide active support in pharmaceutical production.
HYGIENIC DESIGN FOR SAFE PRODUCT HANDLING
The hygienic design of lifters means that the lifters can also be used in clean surroundings. Our stainless steel lifters support you with their high load capacity and the modular use of different grippers when handling raw materials such as powders or liquids in different containers as well as with primary packaging in the clean room. Physical relief for employees while at the same time complying with hygiene regulations:
Hovmand lifters for clean rooms are made of high-quality stainless steel. Their smooth surface gives germs no shelter and does not release any particles when used.
The Models INOX 90, INOX 200 and E300 are suitable for use in cleanrooms. Their simple and thorough cleaning keeps them germ-free.
Lifting aids allow manual work to be carried out without physical contact. Instead of moving containers, barrels or canisters with raw material by hand, the lifter does the heavy lifting - and at the same time eliminates a large part of manual contact.
Process-reliable handling can also be guaranteed more easily with the proper material handling. If the lifter has a firm grip on the container with the right gripper, there is no risk of employees accidentally dropping it due to overload or unstable postures.
When it comes to handling and transporting sensitive goods in the clean room or hygienic area, as in pharmaceutical production, perfectly suitable support is required. Our stainless steel lifters meet all requirements - even in a demanding work environment.
HIGHEST HYGIENE STANDARDS, EFFECTIVE PROCESSES AND ERGONOMIC WORKING POSITIONS AT THE SAME TIME
While mobile lifters made of stainless steel meet the highest hygiene requirements, they are also very versatile in the clean room. Barrel grippers, for example, handle the turning, tilting, lifting and emptying of barrels. Lifters with reel manipulators support the insertion of heavy foils in packaging machines. The chassis is also made of stainless steel. Like all of our lifters, the models certified for cleanrooms are mobile solutions that can easily be stowed away when not in use. In this way, they do not take up unnecessary space if a process step does not require their support. The lifters can be put together modularly. This means that one type of support column and chassis can be combined with various grippers, manipulators, forks or platforms. In this way, the gripper for the barrel can be exchanged with the mandrel for the reel in the twinkling of an eye. This means that one lifter can provide multiple types of support.

In addition, suitable material handling facilitates work processes by relieving your employees of the burden. Foil reels no longer have to be transported manually to the packaging machine. The tongs securely grip the powder keg. Boxes with unpacked goods arrive easily, safely and hygienically at the workplace where the primary packaging is carried out. Lifters minimize the physical strain caused by lifting and turning. When implementing lifters in the workflow you maximize the safety of your employees.
HANDLING TECHNOLOGY FOR THE CLEANROOM: AN OVERVIEW
There is the right lifting aid for every application in the hygiene area:
The maneuverable INOX 90 can lift a total weight of up to 90 kg. Moving parts are well shielded. Its electropolished surface makes hygienic cleaning particularly easy. The INOX 90 can be equipped with one of two trolleys of your choice. It works with a variety of hoists from forks to mandrels and reel manipulators to crane arms and filling aids.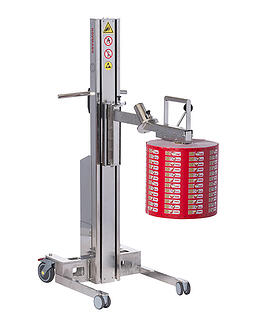 The INOX 200 model can lift an impressive 200 kg. All tools that can be combined with this waterproof lifter are made of pure stainless steel. They include a stainless steel platform, gripping and rotating units, crane arms as well as forks and mandrels for picking up reels.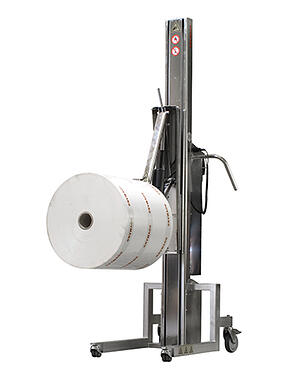 The even more powerful E300 has a lifting capacity of 300 kg. Its lifting height reaches up to 2.35 meters. It handles barrels, tubs and kettles reliably at this height - be it by lifting, tilting, turning or moving. This makes it an ideal support when tipping barrels, turning reels or lifting boxes.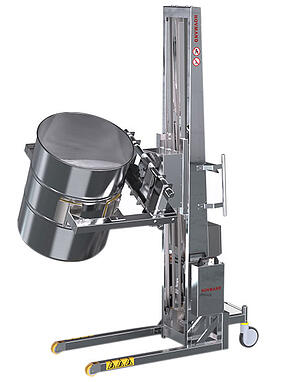 Reliable compliance with the regulations on hygiene and product safety, more efficient processes in pharmaceutical production and relief for employees - lifters also make a strong contribution in cleanrooms.