CHECKLIST FOR COMPANIES: HOW CAN MUSCULOSKELETAL DISORDERS BE AVOIDED?
The European Agency for Safety and Health at Work (EU-OSHA) launched a campaign for prevention of musculoskeletal disorders (MSD) in 2020: "Healthy Workplaces Lighten the Load". Hovmand is a proud campaign partner of EU OSHA. We are taking this as an opportunity to provide companies with a concrete checklist: How can musculoskeletal disorders be avoided?
Musculoskeletal disorders (MSDs) are responsible for most work-related health problems in Europe. According to the German Social Accident Insurance, this applies to disorders such as slipped intervertebral discs, arthrosis of the knee joint and chronic pressure damage to the wrist.
Hovmand has been developing and manufacturing lifting aids for manufacturing, logistics, retail, offices and libraries for almost 50 years. That's why we are in daily contact with people who are concerned about avoiding MSDs.
Our lifting aids are devices that eliminate manual lifting of heavy loads in everyday working life while ensuring an efficient work process.That's why we also know that there is still a long way to go on the path to low physical strain at work.Many companies rely on competent employees – their knowledge, skills and muscle strength. We have compiled a checklist for you on how to better prevent musculoskeletal disorders.
RISK ASSESSMENT: FIRST, GET AN IDEA OF YOUR RISK PROFILE
As is often the case when it comes to occupational safety, risk assessment is the be-all and end-all of MSD prevention. Are the risk assessments in your company up to date? The European Agency for Safety and Health at Work summarises the factors that make the occurrence of MSD more likely.
The following questions can help you to assess your own situation from a new perspective. Any elements that are evident in your company are a starting point for a closer look.
WHAT KINDS OF PHYSICAL ACTIVITY ARE YOUR EMPLOYEES EXPOSED TO?
Heavy physical labour
Heavy lifting
Repeated movements
Unfavourable positions
Prolonged work tasks
Continuous sitting or standing
Work tasks that need to be performed time and time again or with great precision
UNDER WHAT CONDITIONS ARE YOUR EMPLOYEES WORKING?
Long working hours
Infrequent opportunities for breaks
High speed in work tasks
Lack of variety
Lack of control over the speed of work tasks (e.g. assembly line work)
Little support from colleagues or managers
Inaccurate, contradictory role distribution
DO YOUR EMPLOYEES BELONG TO THE FOLLOWING MOST VULNERABLE GROUPS IN RELATION TO…?
Age
Sex
Height
Arm length
Health status and, if applicable, past MSD incidents
Induction to and knowledge of working methods and safety instructions
CHECKLIST TO PREVENT MUSCULOSKELETAL DISORDERS IN YOUR COMPANY
In principle, the EU OSHA recommends applying the following principles for the prevention of MSD-related illnesses:
Avoid risks. Can you remove from your process the questionable or stressful work steps you identified in the risk assessment?
Deal with risks at their point of origin. If you can eliminate manual heavy lifting, you eliminate the risk of MSD in this context.
Create room for customisation. Individuals can improve their personal working conditions if they have enough space to perform movements, height-adjustable tools, chairs and desks or workbenches.
Stay up to date on technical progress and use current tools. Provide your employees with lifting aids for material handling, for example.
If workplaces have hazardous tools or working positions that could cause injury, replace them so they are safer or less hazardous. Can you replace physical work with mechanical work when moving heavy loads?
Create an overarching policy that includes technology, organisation, working conditions, social relationships and the working environment. Show your workforce that management is also behind the measures for health protection.
Implement general measures first. If your transport trolleys have non-slip handles, it is not necessary for every single employee to wear appropriate gloves.
Provide well thought-out work instructions and training.
The management and the corresponding managers are fundamentally responsible for the implementation of the measures that are decided upon. Numerous proven concepts also strongly recommend involving employees in the prevention work to take advantage of their formidable resources.
TARGETED PREVENTION WORKS BEST WITH THE ACTIVE INVOLVEMENT OF EMPLOYEES
The European Agency for Occupational Safety argues in favour of involving workers to a high degree in the prevention of illnesses, ergonomics in the workplace and human-friendly processes, environments and systems. Why? The following are the benefits of involving employees in the improvement of their ergonomic conditions.
They bring detailed expertise about the workplace into consideration
They have an excellent understanding of how the work can be carried out both ergonomically and efficiently
If employees are already involved in the development of solutions that affect them, they can often be implemented more quickly and easily
The form of this participation can look different in every company and project. While input collections in the form of workshops make sense for some projects, others benefit from practical experiments in which improvements are tried out on a small scale by employees.
Major changes may require structured feedback from more extensive trials. Regardless of the form of involvement, the ideas, experiences and feedback of employees must be taken seriously. If an idea proves unsuitable, it is advisable to justify its rejection.
This ensures that everyone continues to support your project. Finally, measures to prevent MSD also entail changes that could be met with resistance.
EARLY DETECTION OF MSD CAN PREVENT CHRONIC DISORDERS
Even in the unfortunate event that musculoskeletal disorder has already occurred, you can still make a major contribution as an employer. Chronic disorder patterns can be better avoided the sooner they become apparent.
Therefore, make your employees aware of what to look out for in themselves and others in order to detect MSD at an early stage. Different parts of the body are overloaded or damaged in musculoskeletal disorders.
This can affect muscles, joints, tendons, ligaments, nerves or bones. If such damage has occurred, the following physical symptoms may occur:
Pain
Limb numbness
Tingling in fingers or feet
Swelling
A comprehensive study by the European Agency for Safety and Health at Work found that 43 per cent of those affected experience back pain, 41 per cent experience pain in their arms and shoulders and 29 per cent experience pain in their legs and feet.
In addition, neck, elbows, hands and knees may be affected depending on the type of strain. An unfamiliar tingling in the hand or a numb foot can be the first sign of a musculoskeletal disorder. If you consistently take these indications seriously, you can significantly protect the health of your employees from serious consequences.
CAMPAIGN PARTNER OF THE "HEALTHY WORKPLACES" INITIATIVE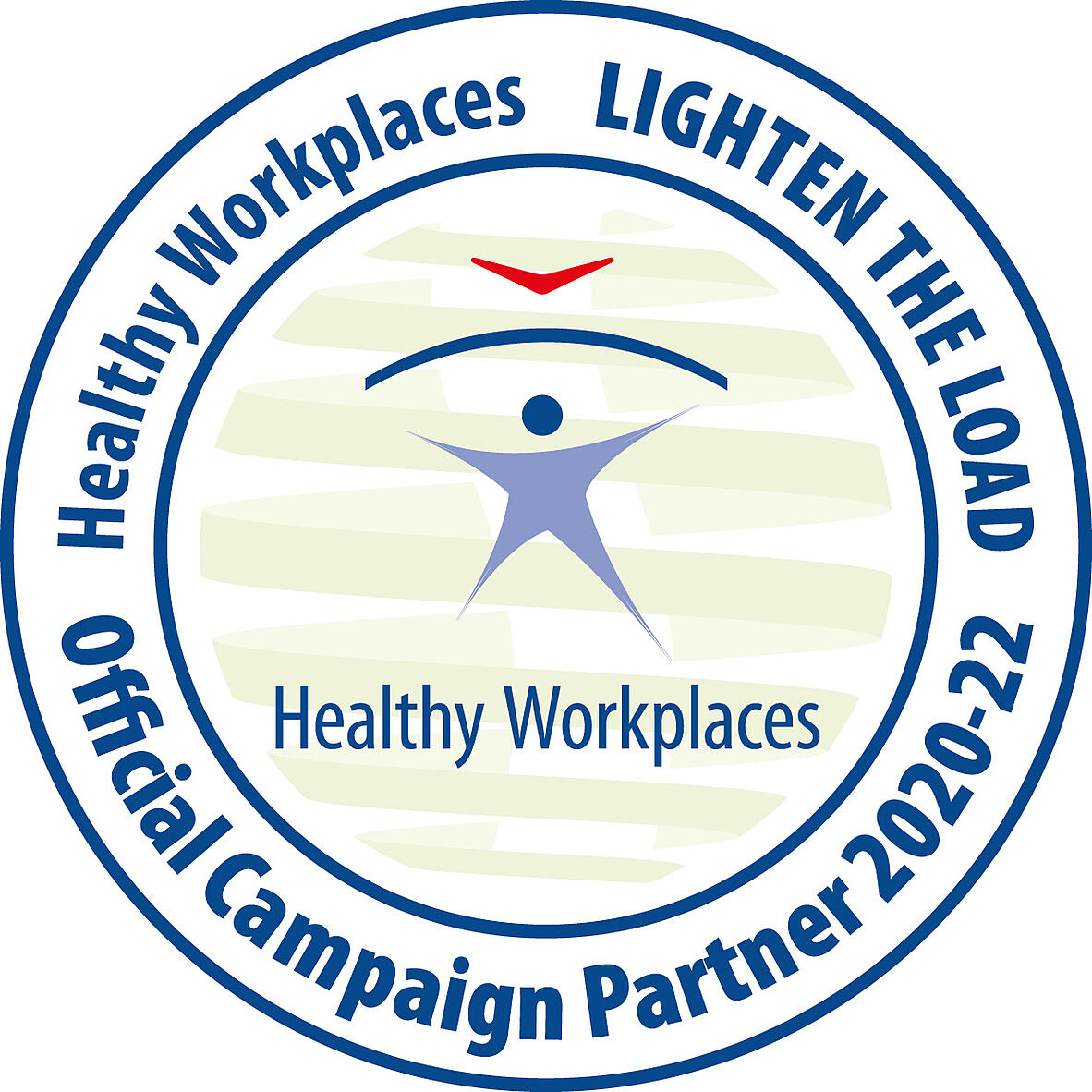 Hovmand is committed to campaigns such as "Healthy Workplaces Lighten the Load". It's a point of pride for us.
Like many other industrial companies, public and research institutions, as well as employers' and interest groups, we want to make our contribution to draw the attention of employers, employees and society to the widespread health problem of MSD. Set a good example and make your workplaces a little healthier. We are happy to help you.
---