---
---
Opportunities for People with Disabilities
The Michelfelder Werkstätten are workshops for disabled people and are part of the Regens Wagner Foundation, which is active in Germany with 14 separate centres. These centres provide people with disabilities opportunities to pursue permanent employment with structured daily routines that allow them to earn their own money.
In Michelfeld, 126 people with special needs currently work in various fields of activity, supervised by a team of 38 staff members. Different teams work in a laundry, a metal workshop, a textile workshop, in the gardens and in agriculture. Assembly and coupling-assembly teams also produce sub-components and finished components for local companies.
---
High Risk of Accidents when Carrying Crates Weighing up to 40 kg
The coupling-assembly teams assemble compressed-air quick couplings for use in industry. The brass and steel parts needed for this are delivered in boxes, each weighing approximately 30 to 40 kg. The boxes need to be lifted from a pallet and carried to the team's work benches and, after the work has been completed, stacked on top of each other for onward transport. Due to their weight, the crates require two people to lift and carry them to the work benches. Space is also limited. There is a latent risk of accidents, especially as coordination skills can vary amongst the team members due to their disabilities.
---
Lifters Designed for Ease of Use
"We saw Hovmand's mobile lifters for the first time at a trade fair. We'd never heard of such lifters before", says Thomas Kürzdörfer, who heads one of the two coupling-assembly teams. "In 2008 we bought our first lifter from Hovmand, an Apollo 130 M. We now have six Hovmand lifters in use. Almost every production team is using one". The mobile lifters are tools for both lifting and transporting. "A single member of the team can use a Hovmand lifter to lift the heavy crates from a pallet, take them safely to their workplace, set them down and then later stack them precisely on top of each other", says Kürzdörfer. In the past, the procedure required at least two people and female team members were often unable to carry out this part of the work because of the heavy weight involved. "The number one selling point for us was ease of use. Our staff members are able to position the electric lifter with the push of a button. Because of the lifter's manoeuvrability, the limited space presents no problems either", adds Matthias Fiedler, head of the Michelfeld workshops. In addition to the Apollo 130 for easy handling of the crates, Hovmand Impact 80 L lifters with forks are now also being used in the workshops to move around large cable drums.
---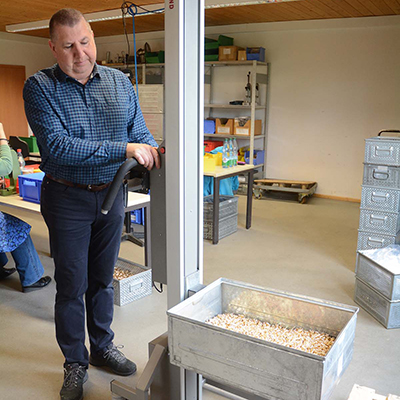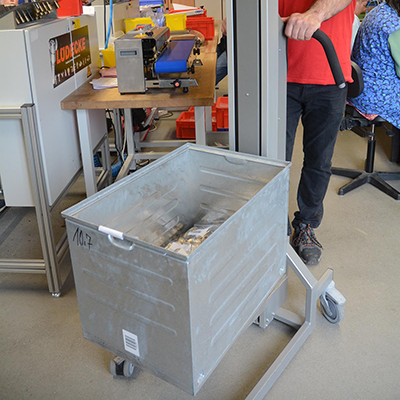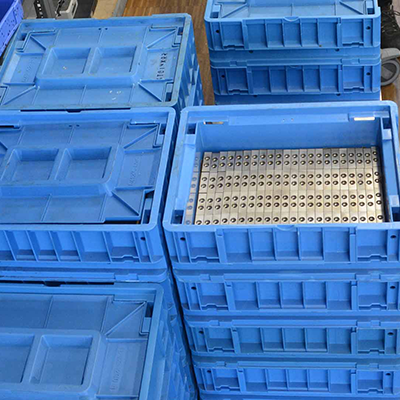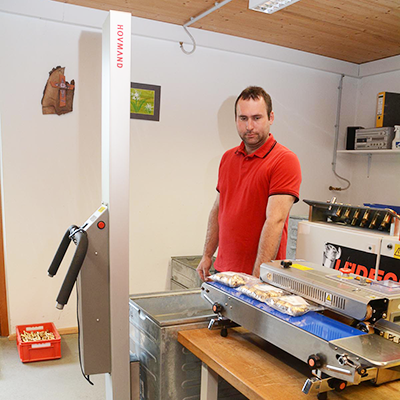 ---

---
"We haven't had an accident at work since introducing the Hovmand lifter, and there are no more complaints about back pain from heavy lifting"

– Thomas Kürzdörfer, who heads one of the two coupling-assembly teams
---
Maximum Independence and Zero Risk of Accidents
"The investment has paid off 100 per cent in all areas", says Kürzdörfer. "Using Hovmand's mobile lifters, we can quickly and safely transport the materials required to assemble the compressed-air quick couplings from the pallet to the workplace and back. Instead of heavy lifting, one push of a button is enough – a real gain for everyone". Equally important is the sense of independence the lifters provide. Team members from the Michelfelder Werkstätten who have disabilities should be able to work as independently as possible. The mobile lifters from Hovmand help them to achieve this. "They not only make the work easier, they also represent another step in enabling staff to work independently", says Kürzdörfer, stressing the psychological significance of the lifters.
---