---
---
Focus on Personal Well-being
Founded in 1949, MEDICE is a medium-sized German pharmaceuticals company based in Iserlohn. The three main fields of activity which this family business is involved in are prescription-free medicines such as Meditonsin and Dorithricin (OTC sector), the CNS area and nephrology. MEDICE has a workforce of more than 600 staff. The company's turnover is steadily increasing and is now generated in more than 50 markets worldwide. Sales in 2018 amounted to EUR 228 million – 70 per cent of which came from Germany and 30 per cent from international business. Based on the slogan "Caring with Passion", the company's products contribute to maintaining health and improving the quality of life. This principle is also embraced in practice by the company itself: flexible working time models, sports courses, personal trainers and a canteen serving organic food ensure a healthy working atmosphere for all employees.
---
Lift Euroboxes to a Height of 1.60 Metres
A room was converted into a production warehouse in MEDICE's production logistics department. Euroboxes weighing up to 40 kilograms are stored there in shelving racks. The boxes contain packaging materials for pharmaceuticals – such as film rolls, blisters, leaflets and folding boxes. Every day, up to 30 of these boxes have to be removed and then replaced on the shelves. The highest storage spaces are at a height of 1.60 metres. There are a total of 550 spaces for the boxes.
After the production warehouse went into operation, it rapidly emerged that employees were leaving the upper storage spaces of the shelving racks empty so as not to have to lift the boxes to such a height, or else they were placing light boxes higher up and heavy boxes lower down so as to avoid straining their backs. Instead of using the first free storage space they could find, they were looking for a place where it was easier for them to place the box. Another difficulty was that not all employees are the same in terms of their physical strength. So some colleagues were unable to remove the boxes from the shelves which others who were stronger had placed in a higher position – an unsatisfactory situation for everyone involved.
---
A Lifter Compatible with Pharmaceutical Needs
"In view of this problem, I started looking for a solution and in doing so I came across Hovmand's mobile industrial lifts at LogiMAT," says Oliver Tietz, Group Manager Warehouse Logistics at MEDICE in Iserlohn. He decided to purchase an INOX 90 made of stainless steel with a platform as a lifting tool. "This enables all employees to move the Euroboxes to the nearest vacant shelf position, raise the box to the correct height and set it down – instead of having to move them in pairs or alone using sheer physical strength." Oliver Tietz's five employees can use the INOX 90 for warehouse tasks all day without any need for physical exertion – and with the guarantee that all employees are able to lift and transport all the boxes.
Oliver Tietz opted for Hovmand because its industrial lifters are suitable for pharmaceutical use. "As a pharmaceutical manufacturer, MEDICE is subject to rigorous hygiene requirements in its production department and production-related storage areas. So our equipment, devices and aids have to be hygienically designed for easy, accessible cleaning. Other key factors that influenced my decision were the good collaboration with the Hovmand sales force and the fact that other competitors in the pharmaceutical sector are already using Hovmand products."
---
---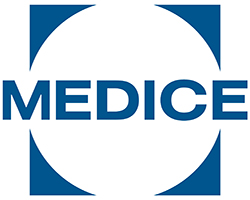 ---
"I purchased the Hovmand industrial lifter for MEDICE in mid-2018. It's been in use for about a year now and has proven absolutely reliable. It works flawlessly, ensures spine relief for my employees on a day-to-day basis and also has a GMP-compliant design."

– Oliver Tietz, Group Manager Warehouse Logistics
---
A Lifter Compatible with Pharmaceutical Needs
Since the introduction of INOX 90, the boxes can now be stored in a way that ensures an optimised process instead of simply by weight. "My employees can now use the first free space displayed by the system instead of having to search for a space in the lower shelf area. This is much faster of course, so it has significantly optimised our work processes. What is more, we're protecting the health of our workforce by preventing excessive back strain."
---