---
---
Traditional Confectionery with a Focus on Customer Orientation
Conditorei Weber was founded in 1979 by Brunhilde and Rudi Weber as a small family business with three employees. With its growing range of products and a focus on customer orientation, tradition and quality, the company has seen ongoing expansion. Today the business employs a workforce of some 40 people in production. Since 2014, son René Weber and his wife Sonja have run the company founded by Rene's parents. Conditorei Weber supplies cafés, bakeries, importers, wholesalers, and retailers within a radius of 250 kilometres. The product spectrum ranges from baked goods for day-to-day bakery needs and seasonal pastries for Christmas, carnival etc. through to wedding cakes, chocolates, and ice sculptures.
---
Lifting a 100 kg Stirrer Vessel to a Height of 1.40 Metres
Conditorei Weber uses stirrer vessels that can weigh up to 100 kilograms. These have to be lifted, taken to their destination and emptied. In the production of curd balls, for example, the dough has to be transferred from the stirrer vessel to the deep-fry pastry machine at a height of 1.30 to 1.40 metres – and this happens 10 to 15 times per shift. Generally speaking, two to three people were required to lift the vessel to this height and tilt it. However, only one person usually works at the dosing unit, so other employees had to interrupt their work and help with each filling process – as many as two or three people were required to lift the vessel, which is heavy and unwieldy. In addition, the dough contained in the mixing vessel often has to be removed from the vessel in portions and processed further in the course of everyday work. The mixing vessel and work surface were at different heights, so employees had to keeping bending over and stretching to remove the dough. This imposed considerable physical strain on employees at Conditorei Weber – they often suffered from back pain, especially those working at the deep-fry pastry machine.
---
Custom-Made Vessel Attachment
"We were looking for a solution that would relieve our employees at the deep-fry pastry machine in particular so as to make their day-to-day work routine more ergonomic overall," says René Weber, master confectioner and owner of Conditorei Weber. "The problem was that most lifting solutions are equipped with a compressed air cable, which would have to be continuously cleared out of the way in the course of our everyday work." At FachPack, Mr. Weber discovered Hovmand's mobile and battery-powered load lifters and opted to purchase an INOX 200. One important purchase criterion – apart from battery operation – was suitability for use in food production due to the stainless steel design and protection class IP 66. "Splash water protection is very important for us because we need to be able clean the lifter easily with the steam jet", says Mr. Weber.
Using the vessel attachment for the INOX 200 – which was custom-made for Conditorei Weber – the heavy stirrer vessels can be lifted, transported, and raised to an ergonomic working height. This allows the dough to be removed in stages and processed further without requiring strenuous bending on the part of the employees – because the vessel contents and working surface are now at the same height. The INOX 200 helps with the deep-fry pastry machine, too: one person can lift the stirrer vessel to a height of 1.30 to 1.40 metres on their own without physical exertion and empty the dough it contains into the dosing unit. The INOX 200 can also be used on the pastry line with an additional table attachment: this measures 50 x 60 cm and is used as a height-adjustable work surface where the pastry can be shaped and filled – before being placed directly on the baking tray at the same height, without employees having to bend or stretch.
---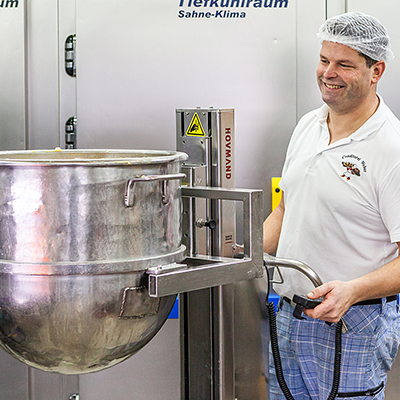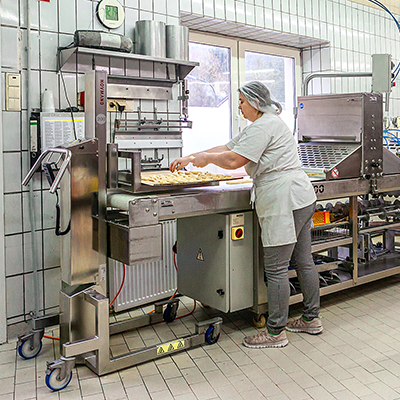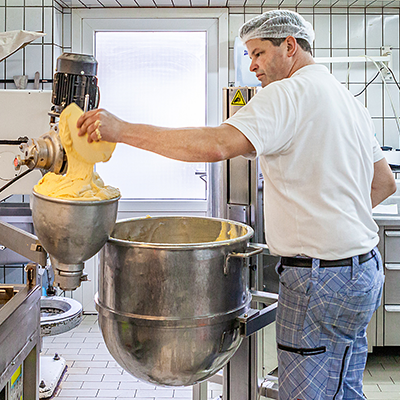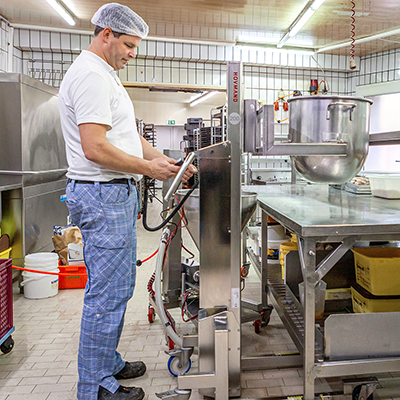 ---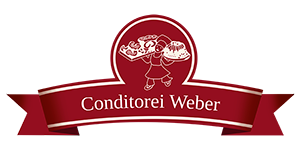 ---
"We've been using the Hovmand industrial lifter for two years now and it's very popular with all our employees. It offers impressive quality and robustness, and it can be used in even the most confined of spaces. We only have to recharge the device every two or three days, and since the battery is integrated, there is no extension cable to get in the way of our day-to-day operations."
- René Weber, master confectioner and proprietor
---
Back-Friendly Work Routine for Every Employee
As a result of purchasing the INOX 200, the number of sick days has decreased significantly, and employees' day-to-day work routine has become generally more back-friendly. Every individual – male or female, tall or short – can now effortlessly fill the dosing system without requiring another person's help, so the work process is much more efficient.
---