---
---
Cheese-Making Company Altenburger Land
Production According to Original Recipes
The cheese-making company Altenburger Land has a workforce of 82 employees and produces cheese specialities according to original traditional recipes on a production area of 11,000 square metres. Founded in 1897, the company produces quality, hand-crafted specialities from daily fresh cow and goat milk supplied by carefully selected dairy farmers in the region based on longstanding partnerships. "Grüner Altenburger" has been the most popular soft goat cheese brand in Germany for many years thanks to its mild, creamy taste. In addition to this goat's cheese brand, Altenburger Land also makes cow's milk cheese specialities under the brand names "Rügener Badejunge" and "Rotkäppchen". Processing approx. 23 million kg of cow's milk and 6 million kg of goat's milk per year, the company attaches great importance not only to the quality of its cheese specialities but also energy efficiency and the conservation of natural resources, for which a comprehensive energy management system has been established.
---
Film Reels Weighing up to 30 kg can be Replaced in the Machine
Altenburger Land has three packaging lines for packing the cheese specialities in film. Up until the beginning of 2019, film reels with a maximum weight of 10 to 15 kg and a reel length of 750 m were used on these lines. Since the products to be packed were changed several times a day – so the packaging film reels had to be exchanged – the company deliberately avoided using larger film reels. At the beginning of 2019, the product range was altered and the packaging department now works one shift on packaging a single product rather than two or three different products as before. This meant switching to larger film reels with a film length of 1500 metres in order to be able to ensure continuous production. These reels of film weigh up to 30 kilograms, so it's impossible for an employee to move them on their own without difficulty.
---
Roller Gripper in Full Stainless Steel
"We set out to find a solution that would allow us to make the most of the benefits of larger film reels while at the same time protecting the health of our employees and not putting strain on their backs," says Hendrik Kotzan, Head of Purchasing at Altenburger Land. "At FachPack I saw the lifting trolleys made by Hovmand and so I arranged a 14-day trial at our production facilities." The company liked what they saw, so an INOX 90 S with a 90 degree rotating roller grab was purchased right away. This enables employees to take the packaging reels off the pallet, turn them and insert them directly into the packaging machine, instead of having two people place the reels in the right place using sheer muscle power. Changing reels is much easier as a result. Due to the long distance from the film warehouse to the packaging department, Altenburger Land employees always transfer several reels to the packaging department at the beginning of a shift. These are then effortlessly inserted into the packaging machines during the course of the day using the INOX 90. Since the rolls have to be lifted to a height of almost one metre, the low mast of the INOX 90 is ideal. Employees can use it for manoeuvring purposes and still have a clear view of both the machine and the reel to be inserted.
Altenburger Land also chose Hovmand because its lifters are available in full stainless steel – indispensable for use in the food industry.
---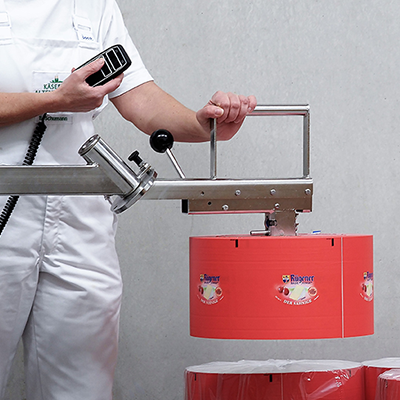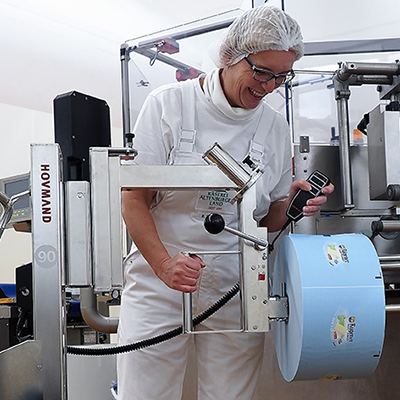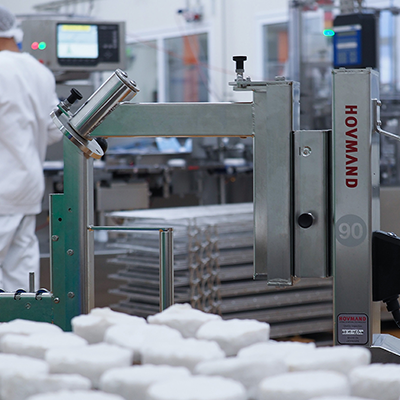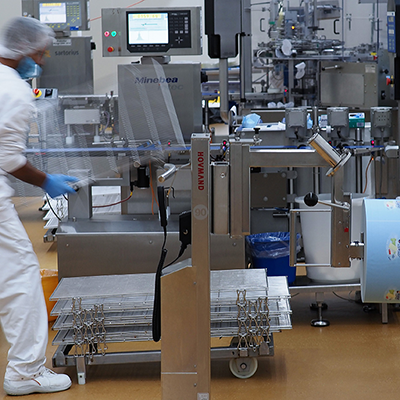 ---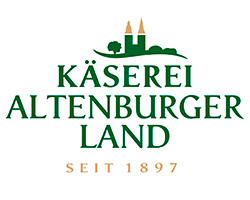 ---
"We've been using the Hovmand roll lifter for a few weeks now. Anyone who has used it once or twice is instantly impressed. It's easy to manoeuvre and the film reels can be changed more quickly and without any effort. The employees immediately noticed the improvement".
– Hendrik Kotzan, Head of Purchasing
---
Optimised Film Reel Changeover – With No Strain on Employees
The introduction of the INOX 90 has enabled full use to be made of the benefits of larger film reels: film changes are less frequent, and the packaging machine can run for longer periods at a time. At the same time, film reels can be changed quickly and without putting employees under stress. Larger film reels and better pallet utilisation have a positive impact on the purchase price, too – so the new solution is a plus for all concerned.
---